Prof. Dr. Ali GÜNGÖR
Prof. Dr. Ali GÜNGÖR is in İstanbul Arel University İstanbul/TURKEY. He received his B.Sc. degree in Physics-Mathematics from Ege University İzmir/TURKEY. He has obtained M.Sc. and Ph.D. degrees in experimental Solid State Physics from the University of Maryland in the U.S.A. His main interest is semiconductors, fiber optics, optical sensors, and wireless communication. He has more than 20 papers published in academic journals. He is very interested in clean energy, energy savings, and environmental problems.
Presentation Title: "ENERGY SECURITY AND THE IMPORTANCE OF TURKIYE"
Affiliation: Electrical and Electronics Engineering, Faculty of Engineering and Architecture,İstanbul Arel University
E-mail: aligungor@arel.edu.tr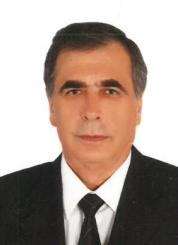 Prof. Dr. İbrahim SEFA
Ibrahim Sefa received the B.Sc degree in Electrical and Electronics Education from Gazi University, Ankara, Turkiye, in 1985, and M.Sc and Ph.D. degrees in Electrical and Electronics Engineering from Erciyes University, Kayseri, Turkiye in 1993 and 1997, respectively. He has been working at Gazi University as a Professor since 2017. He served as vice dean, faculty board member, and head of the department. He was elected as an IEEE senior member in April 2019. He works in the fields of power electronics, renewable energy sources and grid interactive inverters, energy storage systems, and uninterruptible power supplies. Dr. Sefa has 39 SCI articles and more than 100 international papers, two international book chapters editorship, a power electronics book chapter translation, and more than 20 national papers and journal articles.
Presentation Title: "MOTOR OPTIONS IN ELECTRIC VEHICLES TRACTION SYSTEMS"
Affiliation: Electrical and Electronics Engineering, Faculty of Technology,Gazi University
E-mail: isefa@gazi.edu.tr